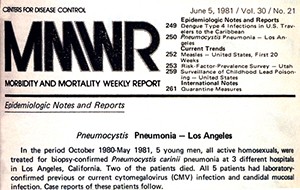 The Beginning of the Epidemic
What would eventually become known worldwide as AIDS was first discovered in 1981, when five gay men died of a rare form of pneumonia. The epidemic unfolded over the following years, with the highest caseloads in the gay populations of large metropolitan areas, particularly San Francisco and New York. Cases also began heavily affecting other demographic groups, such as intravenous drug users and hemophiliacs. Originally referred to as Gay-Related Immune Deficiency ("GRID"), the disease was renamed AIDS in 1983.
The Founding of the Gay Health Advocacy Project (GHAP)
At Columbia, an employee sued the University in 1983, citing employment discrimination due to perceived HIV status. This led two years later to the formation of a University Committee on AIDS, bringing together representatives from various schools and administrative departments, with the intention of creating a university-policy on AIDS. 
On the committee were Paul Harding-Douglas, a gay graduate student studying computer science, and Laura Pinsky, at the time a new employee of Columbia's counseling service. They both recognized the amount of work that needed to be done: to educate themselves and the Columbia community, to support those who were positive, and to counsel students and affiliates on their risk for contracting HIV. Pulling from a group of friends and identified supporters, Pinsky and Douglas created the Gay Health Advocacy Project, or GHAP, in the fall of 1985.
The first meeting was held October 15, 1985. The notes from that meeting read, "We drink champagne from specimen cups to celebrate the start of the program—a feeling of energy, attention, and good will in the room with some tension." Every advocate was given a large packet of materials on basic immunology, current CDC reports, and unpublished scientific journal articles. The first step of the program was to become as knowledgeable as possible about HIV. In a time when information about the disease was constantly changing, it became common for patients to know more than their doctors. Moreover, treatments were few and far between for the opportunistic infections that make up AIDS (to say nothing of treatments for the underlying HIV infection). There was nothing else for people to do, so the impulse to fight turned into the impulse to know everything that was out there.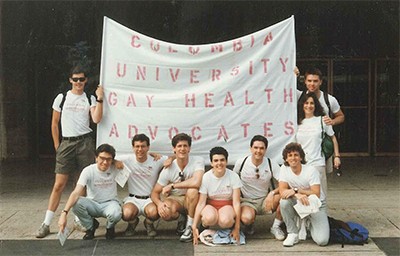 The Early Years
GHAP also considered what it would do outside of research. Their mission per the AIDS Committee was to provide education to the Columbia community and to increase awareness of the disease and its transmission. But what should be their role for students who are worried they are HIV-positive or test positive?
They decided that the advocates would be peer counselors, talking to people in a sex-positive, gay-positive way (both particularly noteworthy for the time) about how to reduce their risk. If they were positive, preparing them for the future and offering support groups. In a time when gay men were dying constantly and unpredictably, GHAP became a way to fight back against both the disease and the moralism that dominated the conversation. Speaking in terms of public health and medicine, GHAP encouraged its members to rally together and to seek knowledge about the disease rather than ignore it or wait to die.
In addition to counseling, advocates would also visit dorms, and give basic AIDS 101 talks called "floor raps." Pinsky and Douglas were soon asked to perform regular speaking engagements, for organizations on campus as well as other groups within the city. GHAP advocates were also involved in a number of activist groups, including ACT UP, and took part in demonstrations with the group.
Pinsky and Douglas prepared a report for the AIDS committee of which they were a part. Based on the research they had been doing for GHAP, it outlined basic transmission information as well as what to do if you were positive. This was noteworthy in and of itself: most of the literature at the time assumed that its reader was HIV negative, and did not offer steps for those who are positive.
Pinsky and Douglas, also organized several conferences and talks to share the results of their research and bring together experts. The first AIDS: Improving the Odds conference was held in 1987 to a packed crowd. Because of the desperation and seriousness of the topic, the conference was raucous, with people shouting over each other and heckling at the speakers. The conference was also attended by members of the AIDS denialist movement, that argued AIDS was not real and AZT (then the drug of choice against it) was a poison designed to kill homosexuals. GHAP ended up holding 'AIDS: Improving the Odds' again in 1989. Both conferences, although with certain logistical issues, provided a great amount of information and the transcripts were widely circulated. Later, in 1994, GHAP also organized a conference to discuss perennial questions around oral sex – as Pinsky phrases it: "To lick or not to lick? To suck or not to suck?"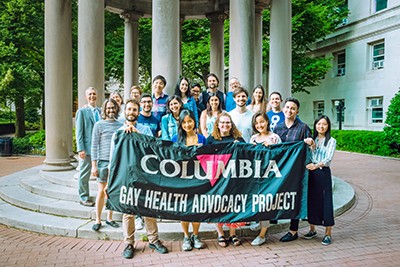 GHAP Evolves With Our Understanding of HIV
In 1995, protease inhibiitors, colloquially referred to as "the cocktail," fundamentally changed the nature of living with HIV. Instead of a bus barreling down the road, HIV infection was a chronic, manageable disease akin to diabetes.
GHAP's place within Columbia's Health system gradually became codified and integrated with Health Services. A string of coordinators, including (chronologically) Ryan Kull, Amanda Crosier, and Chipper Dean, long-standing practices such as training were standardized. Crosier and Dean were also responsible for bringing on-site testing to GHAP. This allowed results to be turned around much more quickly than before.
Daniel Chiarilli took over GHAP in 2005, succeeding Crosier and Dean, and is the group's current director. During his tenure, GHAP has begun offering Pre-Exposure Prophylaxis (PrEP) to prevent HIV transmission as well as expanded its mission to provide compassionate, non-judgmental sexual health counseling and services to students of all genders and sexual identifications. HIV-related services are still core to the team's mission, but GHAP now provides counseling on transgender-related topics, birth control, and more.
Visit the Columbia Health website for more information on GHAP today.